How I Reach Orgasm With My Favourite Vibrators
An orgasm has been simply impossible without the vibrations of these addictive little novelties. Whenever I would be at a certain point either during self stimulation or sex, there would come an interruption of, "Oh I'm sorry darling would you pass me my bag of tricks I'm sure my man felt slightly useless, not being able to complete my pleasure by himself.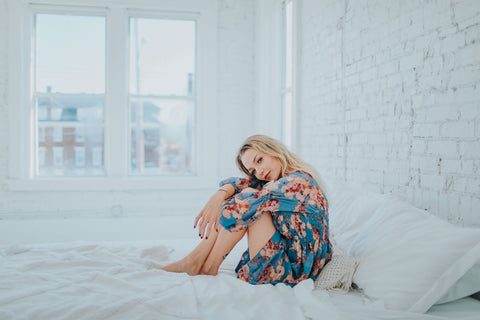 How It Began
It's my own fault though. I've been hooked on sex toys.
Now sex toys are wonderful, but I would love them to merely be an addition to a full sex sex and functioning body parts, not a replacement or a need.
Teased
Back to Saturday. I had been teased all day (you know who you are, meanie) and was feeling tingly and excited as it was. I simply had to orgasm, but wanted to hold off as long as possible. My underwear had been soaking since lunchtime and they were the third pair that day.
Off to bed I went and feeling slightly naughty, I wanted to be filled. Writhing in bed, I was just getting wetter and wetter, as my filled holes were crying out for an orgasm.
My clit was engorged, throbbing, screaming at me to be touched, rubbed, flicked.
My pussy was contracting around the dildo and I was feeling such a filled, fucked whore. Filthy slut, sleeping filled like this.
Lube
Squeezing some onto my fingers, I could take no more. They made their way into my knickers and brushed the wetness over my already slippery smooth folds and sensitive clit.. it howled.
Bringing my fingers to and fro across it, with light strokes, I could feel my legs trembling as I spread them like an eager, wanton harlot. I needed this. I could sense my orgasm building.
Trying not to get ahead of myself I concentrated on the feelings, the sensations. Which speeds felt good and where to press, where to lightly brush over and where to mash my sodden fingers into.
With a piercing explosion of light, the orgasm shattered my world. My hips rose off the bed and my muscles contracted around both dildos, feeling them intensely penetrating me, fucking me like the needy vixen I am.
My clit leaped and danced under my pressed in, happy little fingers.
I'd done it! I'd finally cum without my bullet or any vibrations! So, so happy.
Linked credit is given in this excerpt to Cara Sutra and CaraSutrad.com.
---